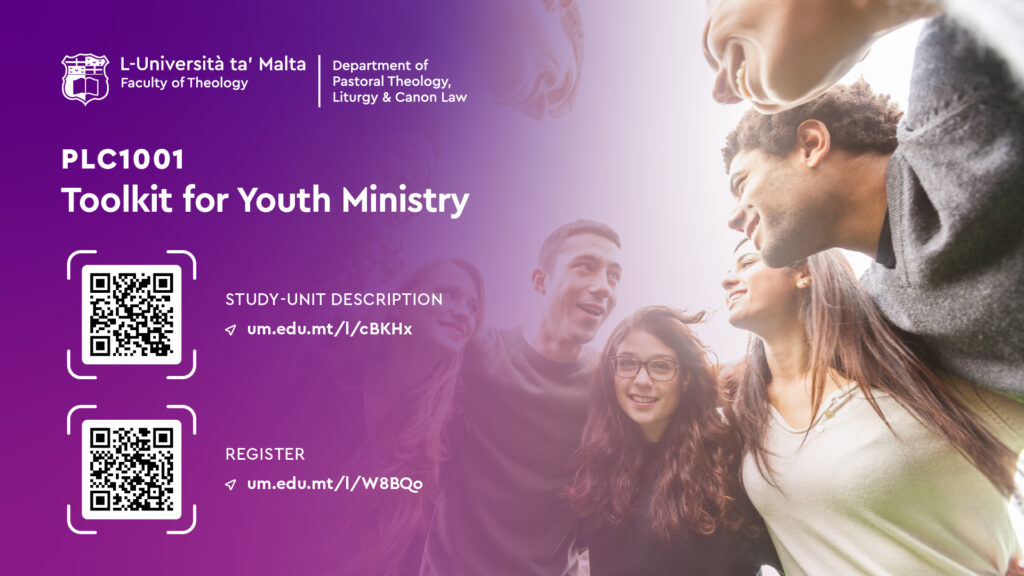 Toolkit for Youth Ministry
Starting in October 2023, the University of Malta invites all those eager to broaden their horizons in youth ministries to join an exciting standalone study-unit: PLC1001 Toolkit for Youth Ministry.
Unveil new insights and skills in 8 dynamic sessions offered by the Faculty of Theology, each lasting 3 hours, featuring the following themes:
1) Youth subcultures and complex systems – Dr Maria Pisani
2) Self-Care in youth ministry – Prof. Maureen Cole
3) Youth: Prophets in a modern world – Rev. Dr Carl-Mario Sultana
4) Youth within the Church as a community 
5) Youth groups within the local pastoral scene – Mr Benjamin Flores Martin
6) Youth Ministry as advocating for young person's wellbeing– Mr Anthony Mifsud
7) Creating and maintaining a safe environment for youth ministry – Safeguarding Commission
8) Inclusive practices in Youth Ministry – Mr David Callaby Floridia
The course fee is €120, with a minimum requirement of 9 students for the study-unit to be offered.
Applicants should apply as "new users". Upon successful completion of a fee-paying visiting study-unit, applicants will receive a complimentary detailed transcript. Application submission is considered complete after pressing the submit button on the application page. 
You may access the online application in the button below.
---