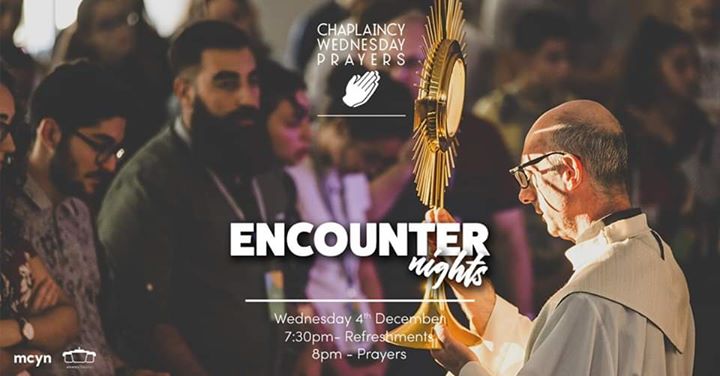 Encounter Night – 4th December – Chaplaincy Wednesday Prayers
Details
Date:
December 4
Time:
07:30 pm - 09:00 pm
Event Category:
Click to Register:
Click to Register
Venue
Chaplaincy Uni
University of Malta Chaplaincy
Msida, Malta, MSD 2020
Chaplaincy Uni together with Malta Catholic Youth Network will be organizing a night of prayer in front of the Blessed Sacrament at the University Chapel 🙏
What are Encounter Nights?
These are the result and the follow-up of the successful Encounter festival in 2018, which was attended by over 700 young people
In this series of Diocesan Eucharistic Adorations, around different locations in Malta, we can continue sharing the enthusiasm and joy which we encountered together at Encounter.
Past Encounter Nights:
1️⃣ Iklin Parish Church – Wednesday 27th of February
2️⃣ Kirkop Encounter Night – Friday 29th of April
3️⃣ Valletta, St Francis of Assisi Church – Friday 28th June
4️⃣ Bormla Parish Church – Friday 11th October
5️⃣ 🔜 University Chaplaincy – Wednesday 4th December
We will be having refreshments 🍪🥮 at 7:30pm and the prayers will start at 8pm till 9pm.
Priests will also available for confession or for a simple chat.
Apart from being a follow-up of Encounter 2018, these will also lead us to Encounter 2020!
www.mcyn.org
---