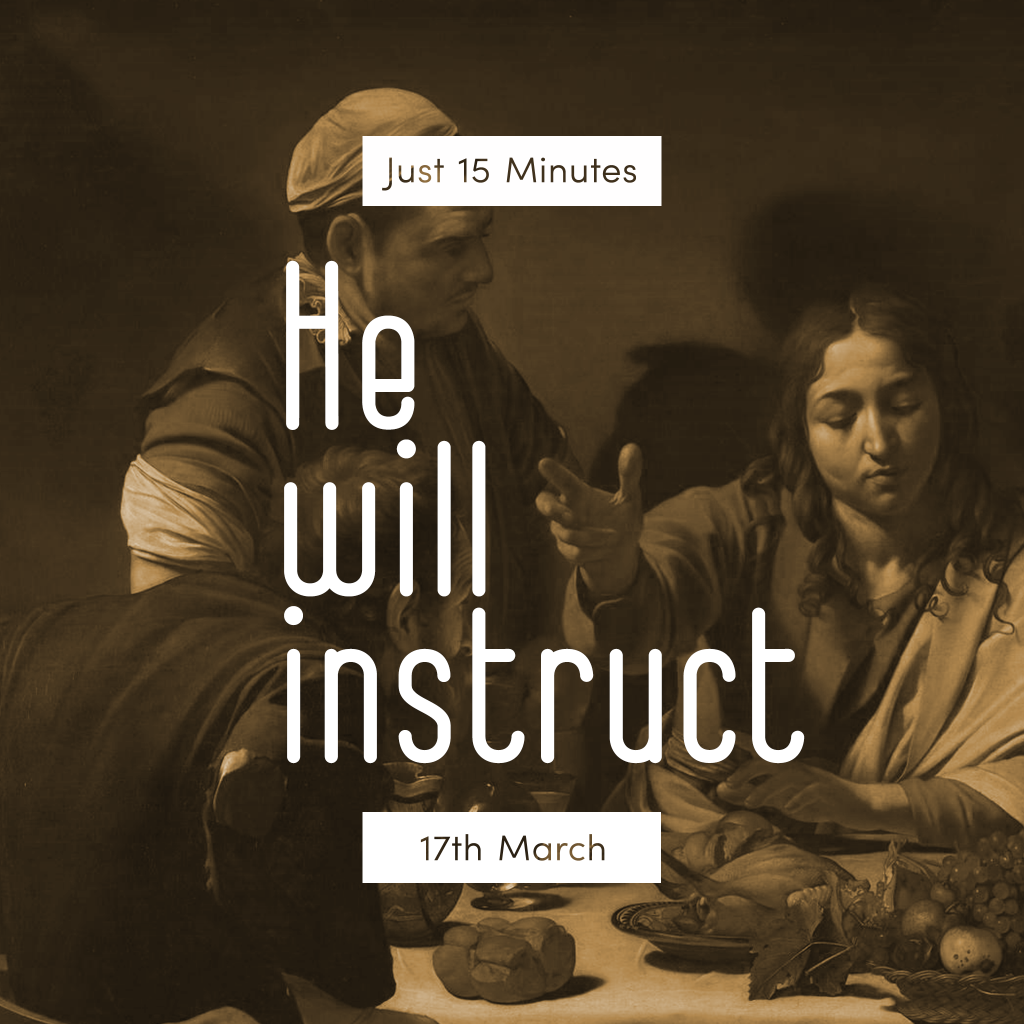 17th March – He will instruct
In this particular period, many of us are forced to slow down and remain at home. This can be a great moment of grace for each and everyone one of us to sit back and spend some time with God in prayer. As we start these daily guided prayer moments, we invite you to find a quiet place, make yourself available for a moment of prayer, to ask yourself some profound questions, and to dialogue with God.
Find a suitable place where you can sit and be calm. 

Close your eyes for a few moments and listen to the sounds surrounding you, be aware of your posture and make yourself present to enter into a moment of intimacy with Jesus.

Make the sign of the cross and remain for a few more moments in silence. TIP: If it helps you to concentrate and to bring yourself before Jesus in prayer, play a song or two of praise. If you do not have any specific song, we suggest this song.
Psalm 25
1 In you, Lord my God,
I put my trust.
2 I trust in you;
do not let me be put to shame,
nor let my enemies triumph over me.

3 No one who hopes in you
will ever be put to shame,
but shame will come on those
who are treacherous without cause.
4 Show me your ways, Lord,
teach me your paths.

5 Guide me in your truth and teach me,
for you are God my Savior,
and my hope is in you all day long.

6 Remember, Lord, your great mercy and love,
for they are from of old.

7 Do not remember the sins of my youth
and my rebellious ways;
according to your love remember me,
for you, Lord, are good.
8 Good and upright is the Lord;
therefore he instructs sinners in his ways.
9 He guides the humble in what is right
and teaches them his way.

10 All the ways of the Lord are loving and faithful
toward those who keep the demands of his covenant.

11 For the sake of your name, Lord,
forgive my iniquity, though it is great.
12 Who, then, are those who fear the Lord?
He will instruct them in the ways they should choose.

13 They will spend their days in prosperity,
and their descendants will inherit the land.

14 The Lord confides in those who fear him;
he makes his covenant known to them.

15 My eyes are ever on the Lord,
for only he will release my feet from the snare.
16 Turn to me and be gracious to me,
for I am lonely and afflicted.

17 Relieve the troubles of my heart
and free me from my anguish.

18 Look on my affliction and my distress
and take away all my sins.

19 See how numerous are my enemies
and how fiercely they hate me!
20 Guard my life and rescue me;
do not let me be put to shame,
for I take refuge in you.

21 May integrity and uprightness protect me,
because my hope, Lord,is in you.
22 Deliver Israel, O God,
from all their troubles!
Present to Jesus today's fears and struggles.
Ask Jesus to empower you to live in the Hope he is offering you.
What new ways of life is Jesus calling me to and instructing me in?
What practical things can I do to be in closer intimacy with Jesus daily?
Allow a moment of silence and try to listen to what God wants to tell you today. We suggest using a notebook to write some short points.
"In you, Lord my God, I put my trust." – Jesus, I choose to trust you daily. Even when the world seems to be in a dark place, I choose to place my trust in you.
Ask Mary to guide you to her son Jesus and intercede for others. Recite a Hail Mary.
What are the requests I wish to bring to God through Mary? For whom will I intercede?
Close this moment of prayer by thanking God for this moment of intimacy together.
Grant us Jesus your peace, which will guard our hearts and minds.
Glory be to the Father, and to the Son, and to the Holy Spirit: As it was in the beginning is now, and ever shall be, world without end. Amen. – Make the sign of the cross.
The Rosary will be prayed every day at 5:30pm and live-streamed on TVM2, Newsbook & Church.mt, from the Curia's chapel. We encourage you all to join us in this prayer. If you have any prayer intentions which you'd like us to pray for, you can write them below. These intentions will be kept in confidence.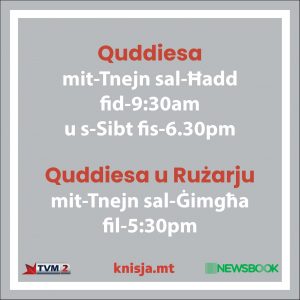 ---