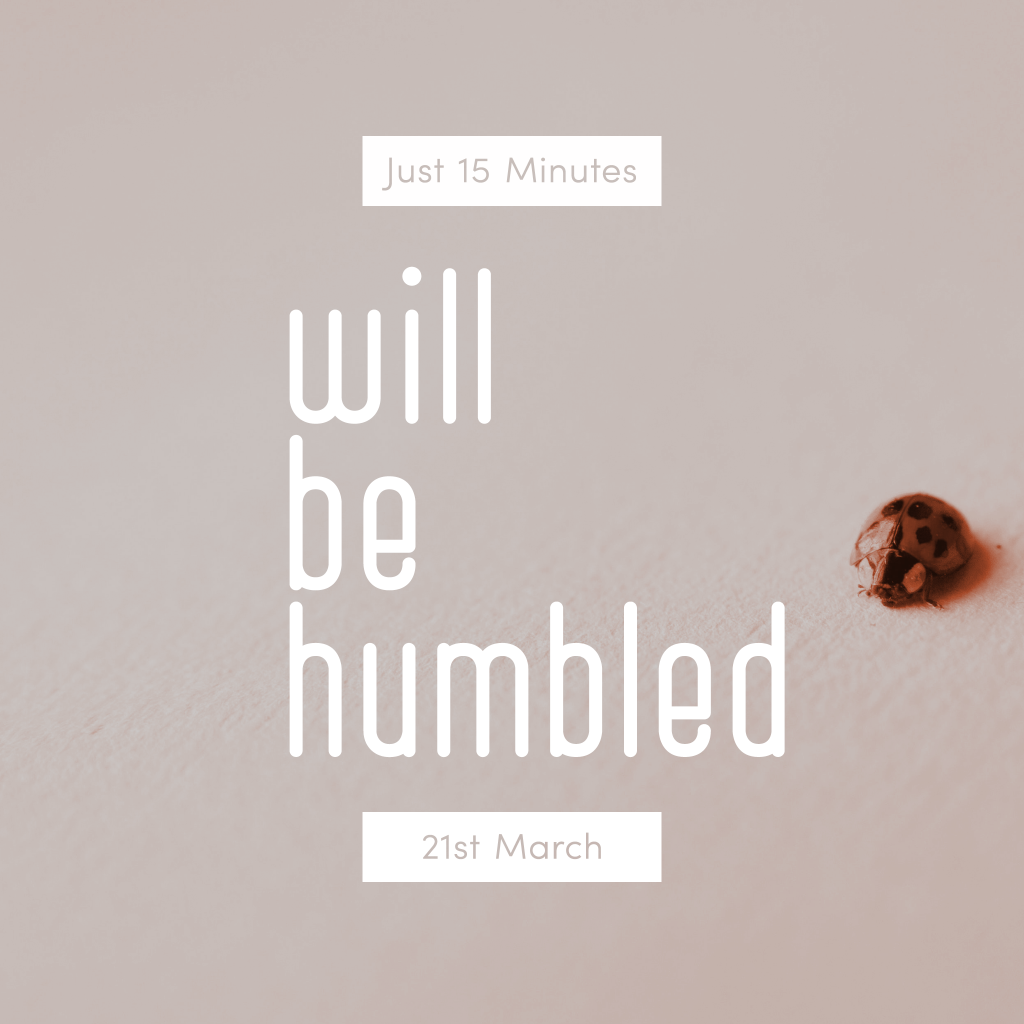 21st March – Will be humbled
As we approach the end of our first week of partial, we sit back and reflect over the past week. It has  been a time of great challenge for many, where fear and anxiety might have taken over for some of us. However we daily fix our eyes on God, and allow this period to be a renewed period of grace, as we place our trust in God through the intercession of Mother Mary. 
Over the weekend we shall be going over the gospel readings of the day, that together with the whole Church we may be fed by the Word of God and the spiritual communion we are called to in these times.
Find a suitable place where you can sit and be calm. 

Close your eyes for a few moments and listen to the sounds surrounding you, be aware of your posture and make yourself present to enter into a moment of intimacy with Jesus.

Make the sign of the cross and remain for a few more moments in silence. TIP: If it helps you to concentrate and to bring yourself before Jesus in prayer, play a song or two of praise. If you do not have any specific song, we suggest this song.
Luke 18:9-14
The Parable of the Pharisee and the Tax-Collector
He also told this parable to some who trusted in themselves that they were righteous and regarded others with contempt: 'Two men went up to the temple to pray, one a Pharisee and the other a tax-collector. The Pharisee, standing by himself, was praying thus, "God, I thank you that I am not like other people: thieves, rogues, adulterers, or even like this tax-collector. I fast twice a week; I give a tenth of all my income." But the tax-collector, standing far off, would not even look up to heaven, but was beating his breast and saying, "God, be merciful to me, a sinner!".  I tell you, this man went down to his home justified rather than the other; for all who exalt themselves will be humbled, but all who humble themselves will be exalted.'
'The Name of God is Mercy'

Why does the tax-collector go back home justified before God?

Do I recognise my need for mercy, irrespective of the few good deeds I may have done?

Especially in these turbulent times we come to recognise that we are all in the same boat, all subject to getting ill. What is the image I have myself when I confront myself with God's love? Do I ask God to have mercy on me in his infinite love?

Ask Jesus for the grace to see the hidden sin in your life

Find some time to make a good examination of conscience, and ask for forgiveness, and promise to go to confession at the next available opportunity.

Allow a moment of silence and try to listen to what God wants to tell you today. We suggest using a notebook to write some short points. 

Jesus, please teach me to see myself as I am in your light, loved and forgiven.

Ask Mary to guide you to her son Jesus and intercede for others. Recite a Hail Mary. 

What are the requests I wish to bring to God through Mary? For whom will I intercede?

Close this moment of prayer by thanking God for this moment of intimacy together. 

Grant us Jesus your gift of love. 

Glory be to the Father, and to the Son, and to the Holy Spirit: As it was in the beginning is now, and ever shall be, world without end. Amen.   – Make the sign of the cross. 
The Rosary will be prayed every day at 5:30pm and live-streamed on TVM2, Newsbook & Church.mt, from the Curia's chapel. We encourage you all to join us in this prayer. If you have any prayer intentions which you'd like us to pray for, you can write them below. These intentions will be kept in confidence.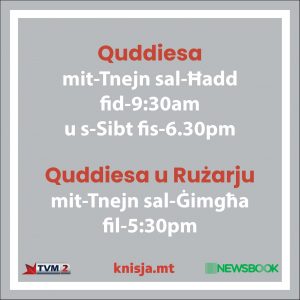 ---