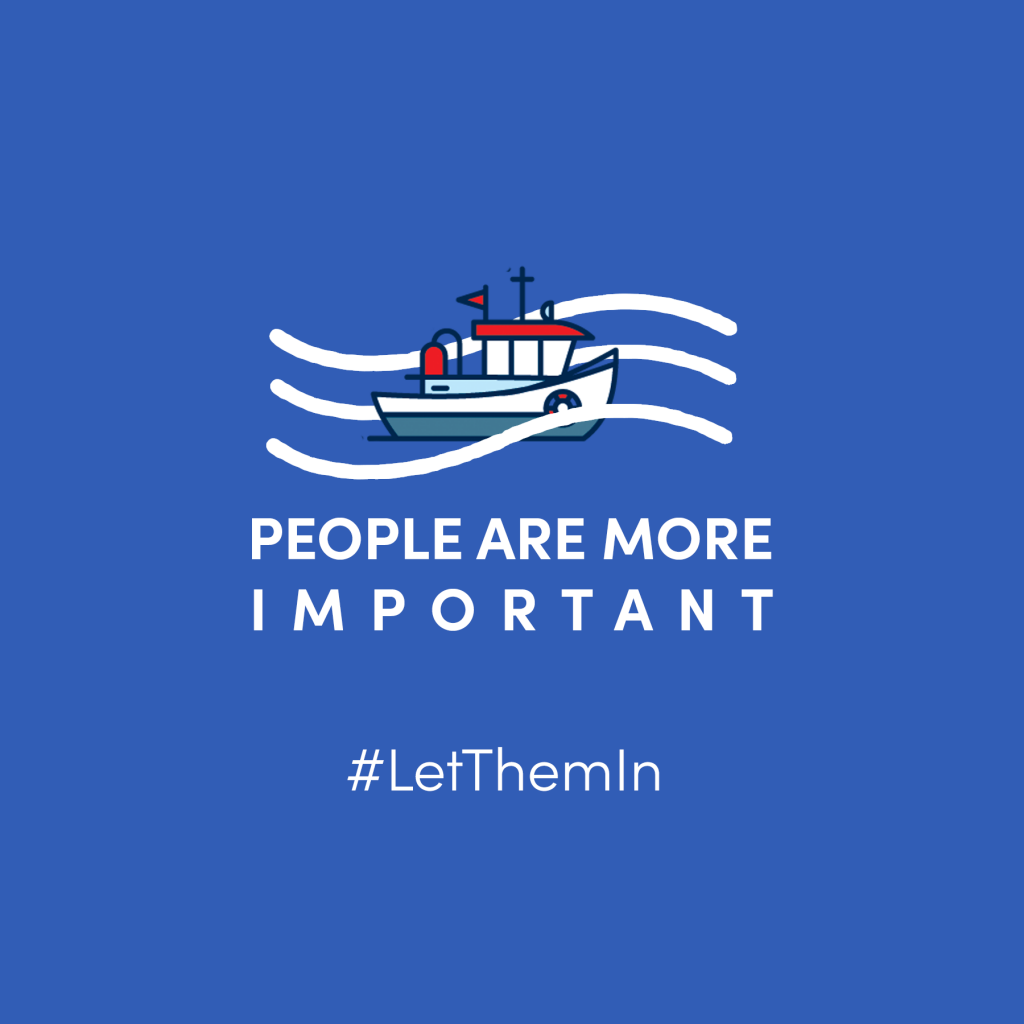 People Are More Important – PRESS RELEASE
PEOPLE ARE MORE IMPORTANT
We are appalled beyond words that, after 18 days of negotiations, 49 men, women and children remain stuck on a boat within sight of the Maltese shore.
In spite of countless calls for solidarity, European Member States have not managed to find a diplomatic solution to the current impasse.
This is nothing short of tragic and shameful.  It can only mean that we have completely lost our humanity – as a people and a union of states that supposedly upholds the values of solidarity, respect for human rights and human dignity.
We acknowledge the complex issues this situation raises, and agree that it is a European challenge requiring a European solution. However, this cannot be an excuse to abdicate our own responsibility, as individuals and as a nation, to save lives at any cost. The duty to save lives is not only a legal but also a moral imperative which can never be subjected to political conditions, such as the availability of concrete offers of relocation or the fear of creating a precedent.
At this point, the question we must answer is simple: what is more important, scoring political points, or saving lives?
For us, the undersigned organisations, there can be only one answer: people are more important.
Today we are here to take a stand for life and dignity. We call on Malta to prioritize life and open its doors today.
IN-NIES HUMA IKTAR IMPORTANTI
Ninsabu ixxukjati u bla kliem li, wara 18 il-ġurnata ta' negozzjati, 49 raġel, mara u tfal għadhom miżmuma fuq dagħjsa ftit il-bogħod mill-art ta' Malta.
Minkejja talbiet numerużi favur is-solidarjeta', il-membri ta' l-Unjoni Ewropea għadhom ma rnexxilhomx isibu soluzzjoni diplomatika għall-impass preżenti.
Din hi sitwazzjoni traġika u tal-mistħija. Ifisser b'mod ċar li tlifna kompletament l-umanita' tagħna – bħala poplu u bħala Unjoni ta' stati li suppost jiddefendu l-valuri tas-solidarjeta', tar-rispett tad-drittijiet umani u tad-dinjita' umana.
Nifhmu li din is-sitwazzjoni tqajjem kwistjonijiet kumplessi, and naqblu li hija sfida Ewropea li tirrikjedi soluzzjoni Ewropea. Madankollu, ma nistgħux nużaw dawn l-argumenti bħala skuża biex nabdikaw ir-responsabilta' tagħna, bħala individwi u bħala nazzjoni, li nsalvaw il-ħajja akkost ta' kollox. Id-dmir li nsalvaw il-ħajja m'hijiex biss legali imma wkoll dmir morali li qatt ma jista' jkun sottomess għall-kondizzjonijiet politiċi, bħad-disponibilita ta' offerti konkreti ta' rilokazzjoni jew il-biża li jinħoloq preċedent.
F'dan il-punt, il-mistoqsija li rridu nirrispondu hija din: X'inhu l-iktar importanti, li nagħmlu punt politiku jew insalvaw il-ħajja?  
Għalina, l-organizzazzjonijiet firmatarji, hemm biss risposta waħda possibli: in-nies huma iktar importanti.
Illum qegħdin hawn biex nieħdu pożizzjoni favur il-ħajja u d-dinjita'. Nagħmlu appell lil Malta biex nagħtu priorita' lill-ħajja u niftħu l-bibien tagħna illum.
08/01/2019
This statement is being issued by:
aditus foundation

African Media Association Malta

agara foundation

Allejanza kontra il-Faqar

Allied Rainbow Communities

Art4Life

Caritas Malta

Catholic Voices

Christian Life Community (CLC) Malta

Creative Arts Therapies Society (CATS)

Dar Merħba Bik

Dar tal-Providenza 1

Department for Inclusion and Access to Learning, University of Malta

Department of Gender Studies, University of Malta

Department of Social Policy and Social Work, University of Malta

Department of Youth and Community Studies, University of Malta

Drachma LGBT

Drachma Parents

Fondazzjoni Ejjew Għandi

Foundation for Shelter and Support of Migrants (FSM)

Integra Foundation

International Association for Refugees

Isles of the Left

Jesuit Refugee Service Malta

Kopin

Kummissjoni Ġustizzja u Paċi

Kunsill Studenti Universitarji

LGBTI+ Gozo

Malta Association for the Counselling Profession

Malta Catholic Youth Network

Malta Chamber of Psychologists

Malta Emigrants' Commission

Malta LGBTIQ Rights Movement

Maltese Association of Psychiatry

Maltese Association of Social Workers (MASW)

Men Against Violence

Migrants Women's Association Malta (MWAM)

Moviment Graffiti

National Foster Care Association

OASI Foundation

Office of the Dean of the Faculty of Social Wellbeing, University of Malta

Paulo Freire Institute

Peace and Good Foundation

People for Change Foundation

Platform of Human Rights Organisations in Malta

PRISMS

Richmond Foundation

Salesians of Don Bosco

Segretarjat Assistenza Soċjali tal-Azzjoni Kattolika Malta

Society of Jesus in Malta

Solidarity with Migrants Group

SOS Malta

Spark 15

St Jeanne Antide Foundation

St Vincent de Paule Society

Studenti Ħarsien Soċjali (SHS)

The Critical Institute

Troupe 18:45

University of Malta Chaplaincy

Victim Support Malta

Women's Rights Foundation

Youth Alive Foundation
Illustrations by vecteezy.com & edited by Evan Demicoli
---