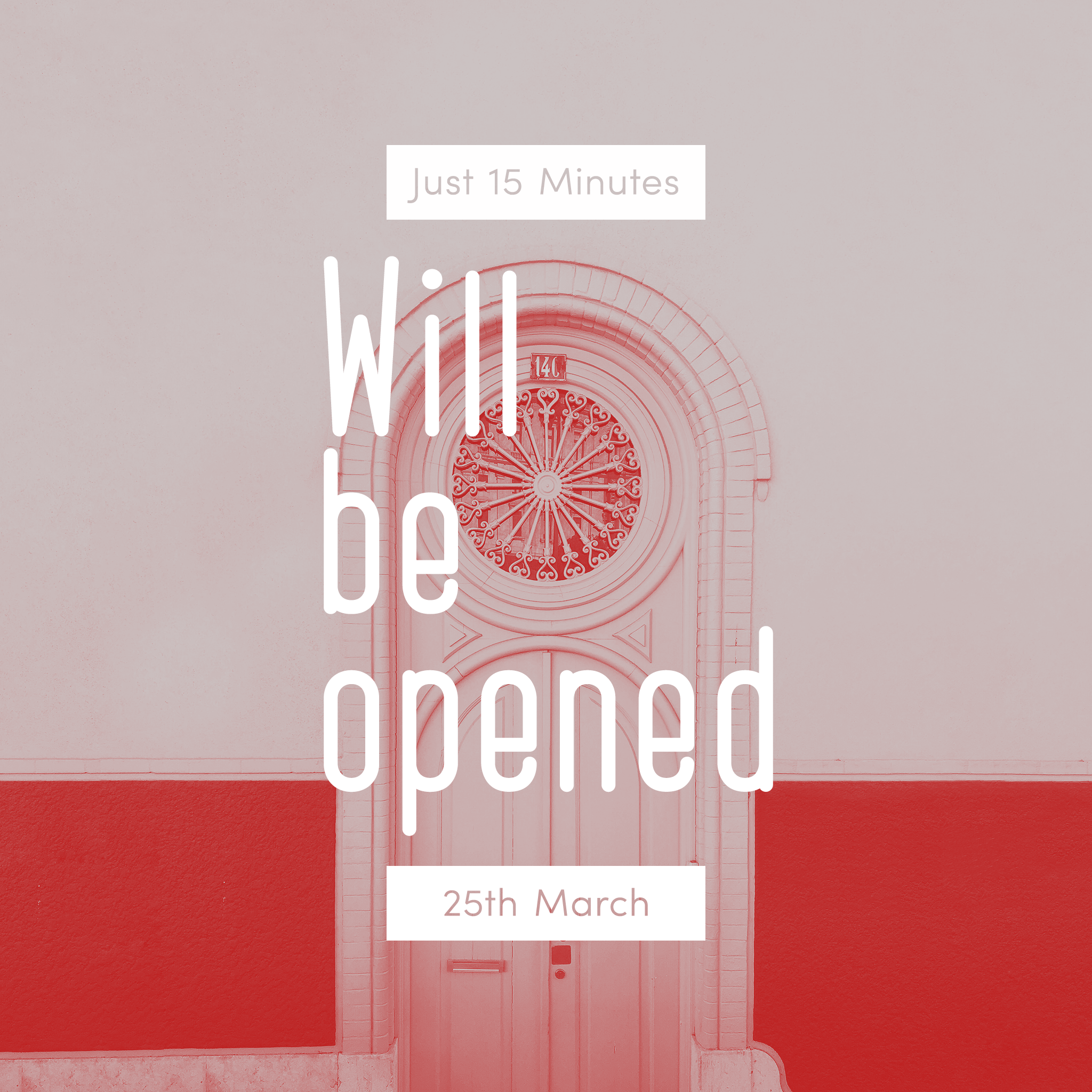 25th March – Will be opened
In this second week of social distancing we entrust our lives and the lives of those around us to Jesus. We hope that these 15 minutes together with Christ are helping you grow deeper in intimacy with God, whilst allowing Him to give you the gift of his peace in these difficult situations.
We ask you to pray for all those who are suffering at the moment and those who are on the health workers fighting this pandemic.
Find a suitable place where you can sit and be calm. 

Close your eyes for a few moments and listen to the sounds surrounding you, be aware of your posture and make yourself present to enter into a moment of intimacy with Jesus.

Make the sign of the cross and remain for a few more moments in silence. TIP: If it helps you to concentrate and to bring yourself before Jesus in prayer, play a song or two of praise. If you do not have any specific song, we suggest this song.
Matthew 7:7-11
'Ask, and it will be given to you; search, and you will find; knock, and the door will be opened for you. For everyone who asks receives, and everyone who searches finds, and for everyone who knocks, the door will be opened. Is there anyone among you who, if your child asks for bread, will give a stone? Or if the child asks for a fish, will give a snake? If you then, who are evil, know how to give good gifts to your children, how much more will your Father in heaven give good things to those who ask him!
How much more will your Father in heaven give good things to those who ask him

Ask, Search, Knock. – What am I asking for, what am I searching for and why am I knocking at heaven's door? What do I truly seek? 

If I take a moment to look beyond the first level of what I wish, maybe at this moment, the gift of health, safety and comfort. Can I ask God for something much more important? What does my heart truly desire?

Jesus I desire the gift of faith, the strength to persevere on this journey, I ask you for the gift of the Holy Spirit in my life.

Ask Jesus for the grace and gift you wish to receive at this moment in your life.

 Jesus I believe that you will answer my call, that you will find me and that you will open the doors for me. 

Allow a moment of silence and try to listen to what God wants to tell you today. We suggest using a notebook to write some short points. 

Ask Mary to guide you to her son Jesus and intercede for others. Recite a Hail Mary. 

What are the requests I wish to bring to God through Mary? For whom will I intercede?

Close this moment of prayer by thanking God for this moment of intimacy together. 

Grant us Jesus your courage and strength, to daily do your will. 

Glory be to the Father, and to the Son, and to the Holy Spirit: As it was in the beginning is now, and ever shall be, world without end. Amen.   – Make the sign of the cross. 
The Rosary will be prayed every day at 5:30pm and live-streamed on TVM2, Newsbook & Church.mt, from the Curia's chapel. We encourage you all to join us in this prayer. If you have any prayer intentions which you'd like us to pray for, you can write them below. These intentions will be kept in confidence.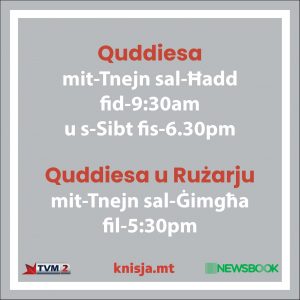 ---