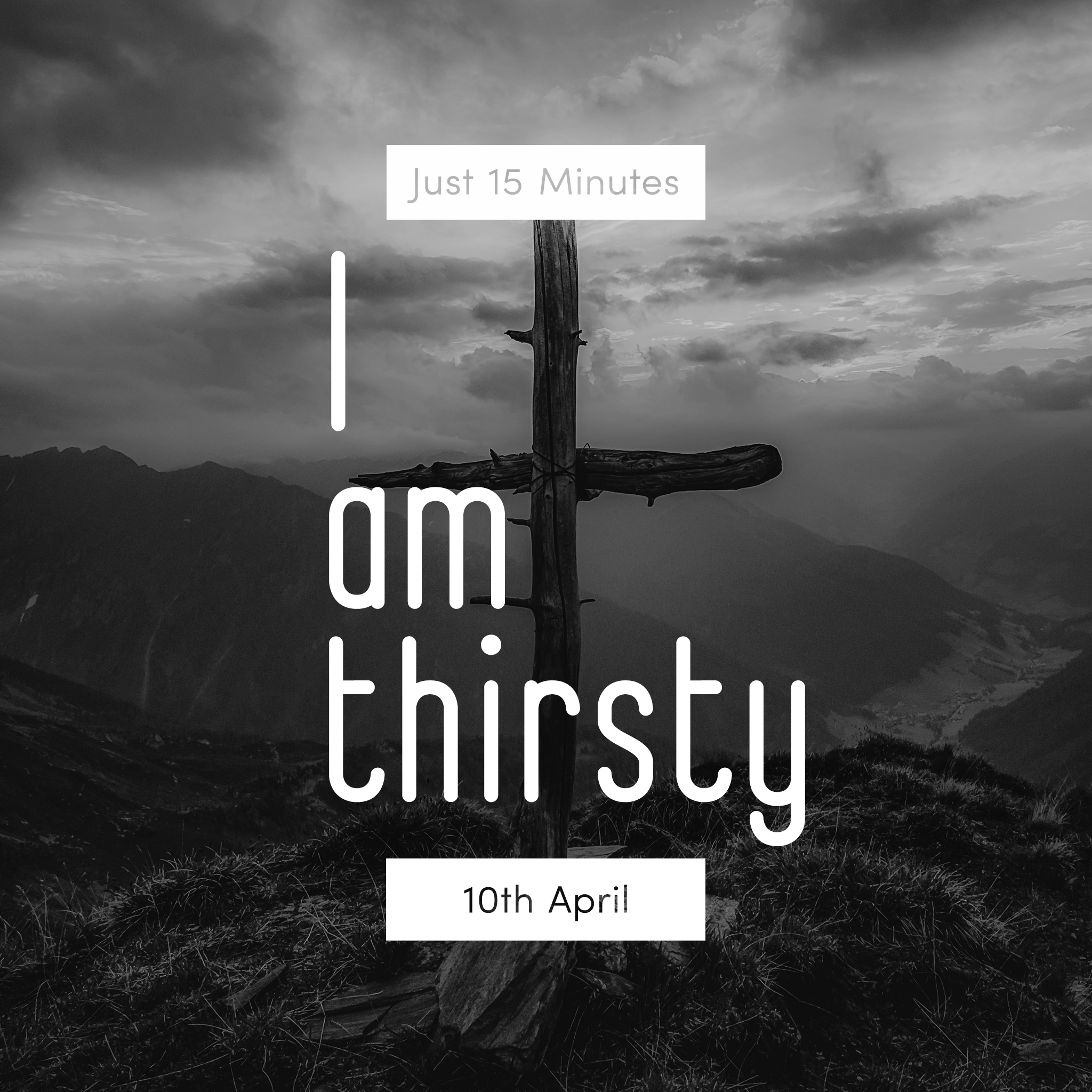 10th April – "I am thirsty."
We pray and meditate on good Friday, the death of our Lord Jesus Christ on the cross on Calvary. Jesus, have mercy on us we pray.



Find a suitable place where you can sit and be calm. 

Close your eyes for a few moments and listen to the sounds surrounding you, be aware of your posture and make yourself present to enter into a moment of intimacy with Jesus.

 

Make the sign of the cross and remain for a few more moments in silence. TIP: If it helps you to concentrate and to bring yourself before Jesus in prayer, play a song or two of praise. If you do not have any specific song, we suggest this song
John 19:28-30
After this, when Jesus knew that all was now finished, he said (in order to fulfill the scripture), "I am thirsty." A jar full of sour wine was standing there. So they put a sponge full of the wine on a branch of hyssop and held it to his mouth. When Jesus had received the wine, he said, "It is finished." Then he bowed his head and gave up his spirit.
"I am thirsty."

Jesus calls out from the cross,  "I am thirsty." But what is this thirst about? In his dying moments why would this sentence be remembered for all these years?

Saint Teresa of Calcutta speaks of the thirst of Jess on the cross, as the thirst of Jesus for souls. Jesus is thirsty to love me. The cross became his ultimate sacrifice of love for us.

How do I respond to such love? Can I quench his thirst by humbly coming to him?

Allow a moment of silence and try to listen to what God wants to tell you today. We suggest using a notebook to write some short points. 

Ask Mary to guide you to her son Jesus and intercede for others. Recite a Hail Mary. 

What are the requests I wish to bring to God through Mary? For whom will I intercede?

Close this moment of prayer by thanking God for this moment of intimacy together. 

Help me Jesus, to humble myself and come as I am to the foot of the cross, where I may quench the thirst of Jesus with love.

Glory be to the Father, and to the Son, and to the Holy Spirit: As it was in the beginning is now, and ever shall be, world without end. Amen.   – Make the sign of the cross. 
The Rosary will be prayed every day at 5:30pm and live-streamed on TVM2, Newsbook & Church.mt, from the Curia's chapel. We encourage you all to join us in this prayer. If you have any prayer intentions which you'd like us to pray for, you can write them below. These intentions will be kept in confidence.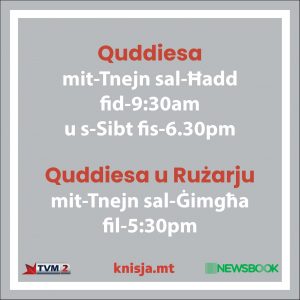 ---